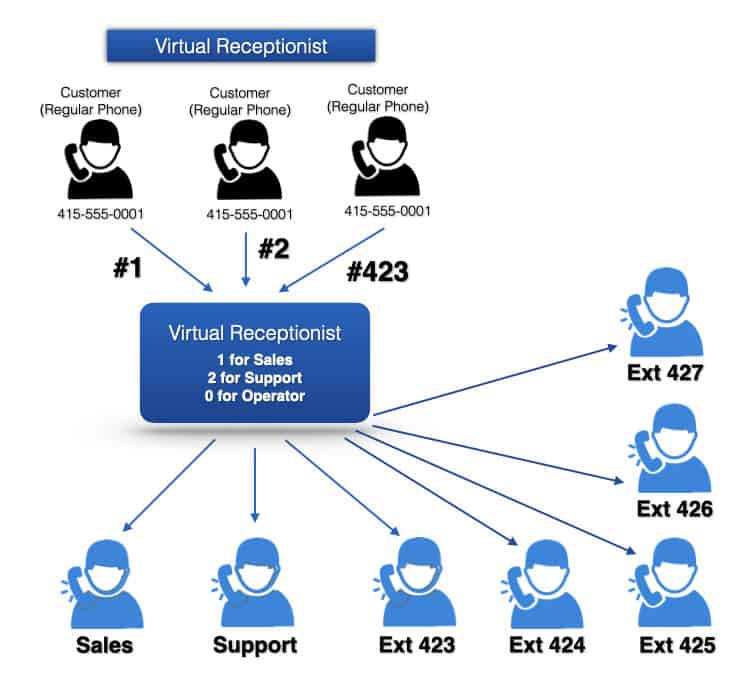 The Virtual Receptionist allows you to setup a voice menu that answers incoming calls. This will allow callers to select where their call should be routed. For example, Press 1 for Sales, Press 2 for Support, 0 for the operator, etc. In addition you can assign extensions for all of your employees!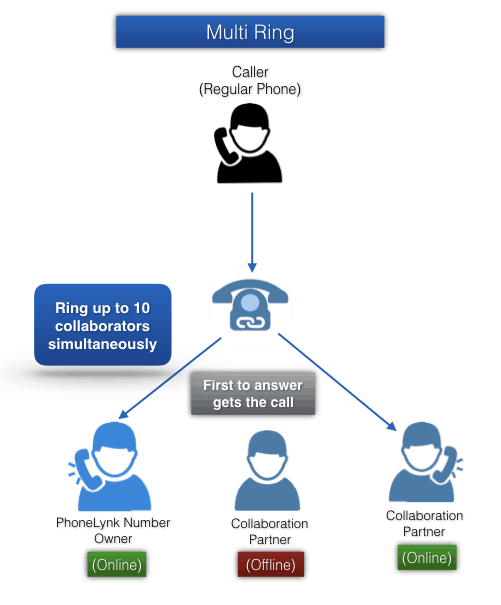 Multi Ring gives you the ability and opportunity to have a single phone number that can be reached by multiple users on their own personal phone!
The owner of the given number has the power to determine which users are collaboration partners! Each of those partners can control when they are online or offline for incoming calls at the switch of a button!
With this leading-edge feature you can take turns being 'Online' for calls OR y'all can be online at the same time! Keep in mind the first to answer the incoming ring gets the call! If the call is missed all collaborators will see the missed call and have access to the voicemail! Talk about teamwork!
This feature is perfect for small businesses, sales teams, and 'on-call' situations such as doctors and medical personnel!
Now you can share a number with other users for making outgoing calls! Whether you are returning an incoming call or have numerous people making calls from a single number, all is possible with this amazing feature! 😄
This feature is very useful for presenting a consistent identity for your business! Your customers will see calls from the same number they used to call you rather than seeing various individual numbers that can cause confusion and dissatisfaction! A professional image is everything!
This ability is particularly handy when returning calls that arrived using the Multi Ring feature for incoming calls!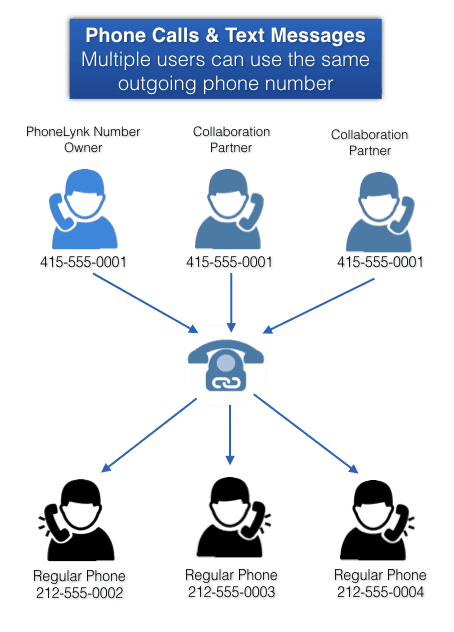 With call transfer you can setup PhoneLynk as your main business number! You have many options. Have the phone ring just one phone, your receptionist for example, then transfer that call to the appropriate team member. Or, have the call ring multiple phones at the same time. Whoever is available can grab the call and assist your customer or transfer the call to the appropriate person.
Best of all, you don't all have to be in the same location. Team members can be anywhere as long as they have access to the Internet!
With Text Message collaboration your team will be able to work together when communicating with a customer via text messaging!
Your customer will see all of the text messages from the same number, so they won't know that multiple people are involved! How neat! Unlike the customer, your team will be able to see every message and know who sent what message and when!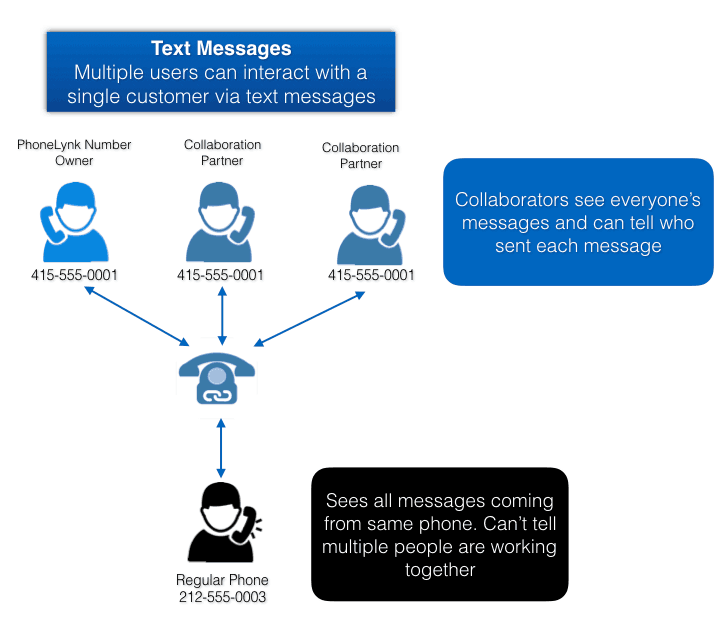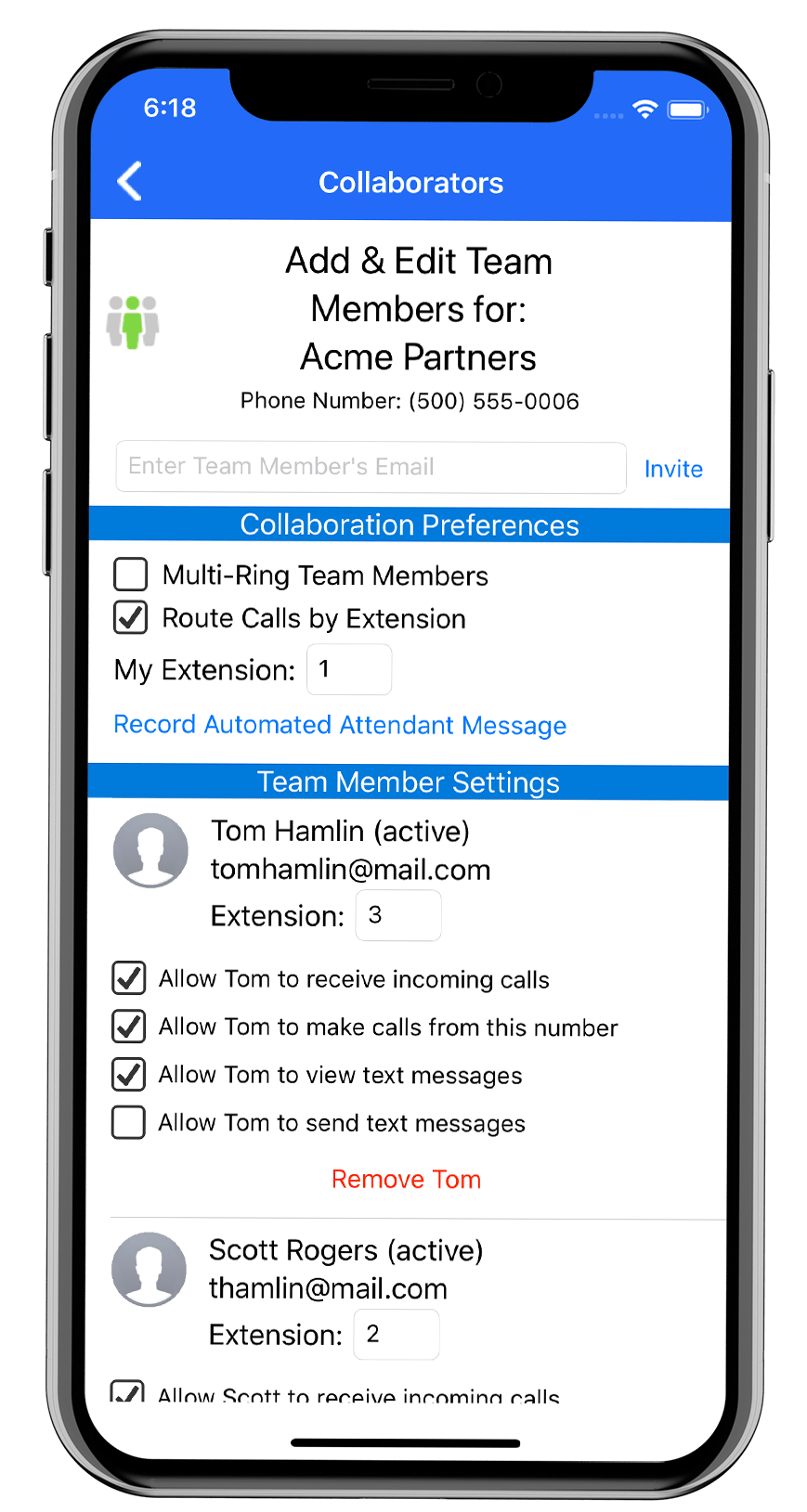 Setup to Your Needs
As the owner of a number you make the call on who can have what collaboration privileges! You are in complete control!
Automated Attendant – Virtual Assistant greets your customers and transfers them to the appropriate employee or department.
Multi Ring – Incoming call rings multiple phones and the first to answer gets the call.
Make Calls – Allows a collaborator to place calls on the owner's number.
View Text Messages – Allow a collaborator to see texts made on a particular number.
Send Text Messages – Allows collaborator to send text messages on behalf of the owner.
Collaboration is excellent for small businesses and teams such as sales or support teams